Workshops
Children and students learn best when their emotions are settled and they are in a happy and confident state. Even the most academic student can lose focus if they are dealing with unwanted or negative emotions. Sometimes these unwanted or negative emotions may be caused by obvious factors, such as bullying, obesity or changes in family circumstances and sometimes there may be blockages or uneven emotions that seem to occur for no apparent reason.
Found out about upcoming workshops or call 07958 203274 for more information.
Communication Skills
–Using the NLP communication model, we will discover the link between your thinking, words and the response you get to them
–Matching and Mirroring
– Using words, physiology and tonality to make and break rapport.
–Powerful words and words to avoid.
–Seeing from someone else's perspective.
Confidence Building
–Understand how your thinking creates a good day or a bad day.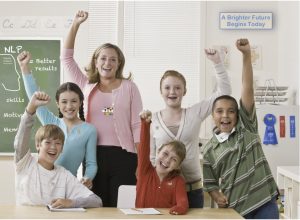 –Presenting perfectly.
–Learn to believe in yourself by realising your super hero skills.
–Can you remember a confident time? Lets re-install that feeling into RIGHT NOW!
Motivation
–Anchoring- How to get into a good state super fast!
–No more bad language! Create the perfect sentences for ultimate motivation.
–Learn how to change emotions and easily remove problems.
–Coming to your senses – find out what motivates you to learn: the things you see, hear or do.
Study Stress
–Setting goals- what do you want to achieve?
–Believe in yourself – You'll achieve more if you do.
–Expand your ability to remember using the memory skills of memory record holders.
–And relax! You have a greater chance of passing those exams if you learn how to relax when you're doing them!
NLP4Kids Workshops:
* Make learning fun!
* Boost self confidence.
* Use practical exercises that are effective and simple to learn.
* Enable children to make confident and informed choices.
* Utilise tools that can be applied in day to day scenarios.
* Encourage Flexible behaviour.
* Provide an energetic and stimulating environment for learning.
My workshops are suitable for children aged 7 years+ ( I work with younger children on a one to one basis.) The workshops will take place at the weekends or during schools holidays, when it is easy for children to attend.
I am qualified in NLP with qualifications in working with children. They have also undertaken a specialised NLP course for children and have regular retraining and CPD.
Found out about upcoming workshops or call 07958 203274 for more information.